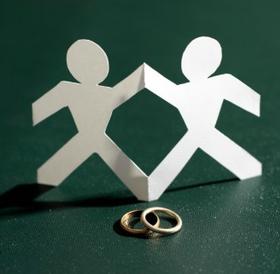 California changed domestic partnership law drastically in 2005. Many code sections related to domestic partnership were revised, including the one regarding terminating domestic partnerships. Post-2005 there are two tracks that domestic partners can take when they want to "divorce" one another. If they qualify and want to, they can participate in summary termination procedures. Track One: Summary termination procedures are free to file, there are no hearings, and it's relatively easy (yes people—you are getting jealous). Track Two: Full judicial dissolution of the domestic partnership in a process that mirrors dissolution of marriage in almost every way (more complicated, more expensive, more time consuming).
Do I Qualify For Summary Termination?
Under Family Code § 299, there is a list of requirements to summarily terminate a domestic partnership. They are incredibly similar to Family Code § 2400, which covers summary dissolution of marriage. Here are the qualifications set out in § 299:
Both Parties Agree;
Neither Party Wants Spousal Support (yes you can get spousal support as domestic partners);
The Length of the Partnership Was Under 5 years;
Neither Party Owns Real Property or a Lease On Property Greater Than 1 year;
The Community as a Whole Doesn't have more than $4,000 in debt (not counting automobiles);
The Community Doesn't have more than $25,000 in assets(not counting automobiles);
The Parties have signed a community property settlement agreement;
Neither party is pregnant;
Neither party had a child during the partnership; AND
Neither party adopted a child during the partnership.
What Next?
If you qualify and have a written agreement, then you file a simple form with the Secretary of State's Office. However, and this is a big however: either party can cancel within 6 months before the summary termination is effective (it's like a 6-month rescission period). That's right. Five months and 29 days later one of the parties can file a Revocation of Termination with the Secretary of State. Then it's off to court to have the partnership dissolved just like a marriage.
What's The Big Deal?
The big deal is that California is making domestic partnership more and more similar to marriage. Now, Federal law hasn't quite caught up yet, so the tax and medical benefits aren't necessarily there yet. So now domestic partners get the protections offered by the California Family Code (like custody and support provisions), but at the end of the relationship– a pair of partners might be looking at a divorce process very similar to a married couple.