California state laws always start in January or July.  This year's laws going into effect the other day on July 1 are a strange mix.  If you ever wondered what your state assemblymen were talking about in the green carpeted hall (that really is some ugly carpeting) in Sacramento—its foie gras, autism, tattoos, and bullying.  Of the new laws, I think the bullying law is my favorite, in that it expands the definition of bullying to include online behavior.  I think there is probably more bullying on facebook than on the school bus these days.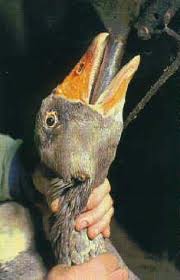 SB1520 bans the sale of foie gras, duck or goose liver that has been fattened by force feeding the animals with tubes shoved down their gullets (I don't care how gourmet it is or how depressed your resident gastronome is, foie gras is cruel and wrong);
AB1215 requires used car dealers to put bright red stickers labeling salvaged or junked cars;
AB300 requires tattoo artists to be vaccinated against Hepatitis B, get basic first aid training, and follow statewide standards on sanitation (about time!);
AB1156 provides training for school employees on bullying prevention and expands the definition of bullying to include posting material on social media websites; and
SB946 requires health insurance carriers to cover behavioral therapy for those with autism, such as discrete trial training, which can be very costly when paid out-of-pocket.